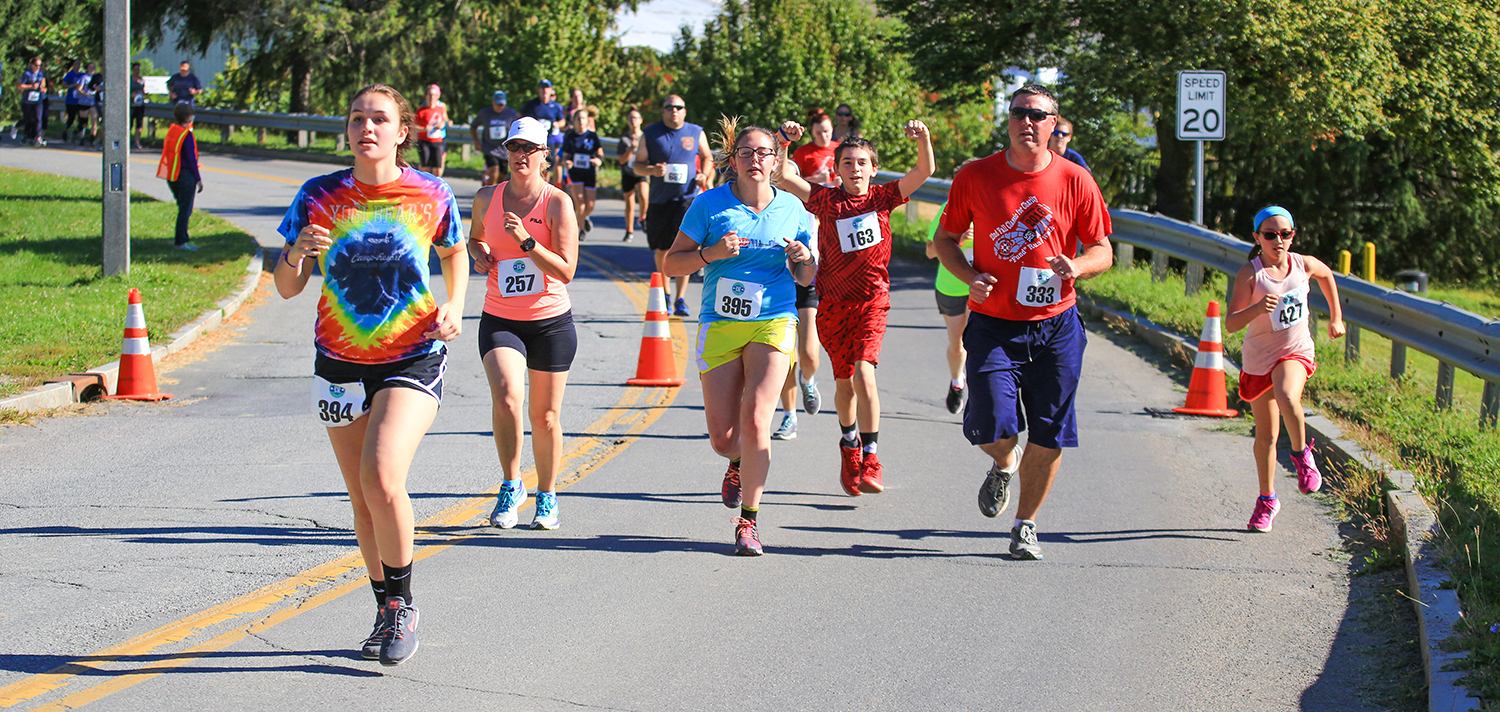 August 2018 - RUNNING & WALKING
Balancing Act Between Summer and Fall Races
By Laura Clark
This time of year there is a certain amount of give and take. It is still technically summer, but relentless back-to-school sales remind us that we are living on borrowed time. Even Mother Nature seems confused. While some September days suggest fall has truly arrived, others boast soaring temperatures. It is difficult to know when to target that fast fall 5K. Fortunately, the late August and September racing scene offers a fast and furious array of weekly 5Ks, so you can be flexible in the timing of your goals.
Reviving the old Stroehmann Run, the first annual Southern Saratoga YMCA Hump Day 5K is on Wednesday, August 22, with its 6:15pm start. This ensures that the heat of the day will be on its way out, guaranteeing a fast time on this PR course. Beginning at the YMCA, runners travel on Clifton Park Center Road onto Moe Road, pass Clifton Park-Halfmoon Public Library, and return on a beautiful wooded path.
Mid-week status also promotes a more relaxed atmosphere, as there will be no pressure from the myriad weekend activities that overwhelm our lives. Race director Allison Reinhardt urges you to bring the family to enjoy the Y's playground, bounce house, trail system, post-race goodies, and even take a swim in the pool – guaranteeing a sound night's sleep for all! Proceeds support the Y's Healthy Living programs. (zippyreg.com)
Just over the September border, but technically still the final weekend of summer, is the ninth annual 5K Run for the Horses on Saturday, September 1 at the Orenda Pavilion in Saratoga Spa State Park. The event is summer-themed as runners and walkers will support fellow retired athletes – thoroughbred race horses who can expect to live 20-25 years past retirement. Along the winding, gently hilly park paths, participants will be cheered on by some of those retired horses – joined also by still-working police horses.
This race is all-inclusive, with a half-mile Kids' Fun Run, awards for top 5K runners and walkers, and even a Canine Companion division! This is one of the few events in the area where our doggie family members are encouraged to participate on an equal footing – so take advantage of the opportunity. In keeping with the horse theme, just a reminder that this final weekend is the most relaxing time to visit the track to view race horses in action – Travers is history, the tourists have fled, and we locals can experience the track ambience in a hassle-free atmosphere. (runforthehorses5k.com)
For another opportunity to improve your 2018 summer PR, head over to the Albany Harriman State Office Campus on Monday, September 3 for the 30th annual HMRRC Labor Day 5K Race/Walk. With the start and finish on the Patroon Creek Boulevard, the route consists of inner and outer loops, giving slower runners the possibility of seeing the faster athletes in action. While the second mile is downhill and flat, save something for the final stretch, which race director John Parisella terms "challenging."
You can expect a competitive crowd as this event is part of the HMRRC's Grand Prix Series, which offers cash prizes to overall and age group winners. Not being a faster runner I figured I had no chance last year and only by accident accumulated the requisite number of series races. But amazingly, I ended up scoring a Fleet Feet gift card. So it is definitely a goal worth targeting. Labor Day 5K is runner-friendly, with age groups extending to 85+. Proceeds benefit HMRRC's Just Run youth program, scholarship fund, and running-related grants. (hmrrc.com)
Taking that first tentative step into fall on Saturday, September 8 is the ninth annual Malta 5K Run/Walk, with its traditional flat, fast route around the Luther Forest Tech Park and past Global Foundries. To add spice to the competition, race director Paul Loomis states that, "Team competition is a huge component," as teams with the most members receive a sizeable donation to their charity of choice as well as free entries to next year's race.
And this is not the end of the goodies: Fleet Feet provides over $1,000 worth of prize money to overall and masters champions, and Treepad hands out day passes for all youngsters 12 and under. Even if you have no chance of scoring prize money, chasing all those top athletes will inspire your fall PR. The Malta 5K is presented by Roundabout Runners Club, a new Malta/Ballston Spa kids' running organization that will be volunteering, and proceeds again benefit local VetHelp and EMS first responders. (malta5k.com)
The second annual ADK5K Run/Walk scheduled for Saturday, September 15 treads the line between summer and fall just after the peak summer tourist season and before the leaf peepers invade. Based from Lake George's Adirondack Pub & Brewery, it offers food trucks, beer samples, music and lawn games – similar to their Shmaltz "Chosen One" 5K. The course runs along the beach and loops through Fort George Park with a sweeping view of the lake. Incredibly, this route minimizes the hills, with the largest a 60-foot climb on Beach Road.
As an added bonus, teams of ten or more runners will receive an ADK5K growler. All finishers receive a free modern pilsner glass and custom metal coaster. Race director Carl Ewald claims his event is "the perfect excuse to spend a weekend in the village," with a Hemmings Motor News collector car event, Jazz at the Lake festival, and Lake George In-Water Boat Show on tap. Race proceeds benefit the Lake George Association, dedicated to promoting water quality. Get $5 off with code ADKSPORTS through 8/31. (adk5k.com)
The Albany JCC's Dunkin' Run on Sunday, September 16, with its 5K Run/Walk, 10K and 15K options, forces runners to make a difficult choice. Which race to run? Stick with the flat 5K loop course for a fall PR or branch out into longer distances with multiple loops, keeping in mind training for November's Stockade-athon 15K. A tough decision as there aren't many opportunities to practice the 15K distance. Approximately 900 runners will join this community-organized event.
Some runners are enticed by the cash prizes offered to the men's and women's top three open and overall masters in each event. Abundant 10-year age group awards extend through 80+, with the younger crowd enjoying their own half-mile Munchkin Run. And did we mention the donuts? And the collector's brightly colored Dunkin' Tees? Proceeds support the programs of the Sidney Albert Albany Jewish Community Center. (albanyjcc.org)
Wrap up your early fall season and enjoy a fair atmosphere with the 25th anniversary celebration of the FAM 5K "Fund" Run/Walk at the Cobleskill Fairgrounds on Saturday, September 22. Enjoy a party atmosphere with more than 800 participants, barn displays, clowns and raffles. Post-race, splurge for some world-famous, sweet and tangy Brooks Bar-B-Q chicken to enjoy at one of the picnic tables or to take home for a fuss-free supper. The route circles the SUNY Cobleskill campus, with some gentle hills and an encouraging out-and-back view of fellow runners.
As a bonus, there is a free Fun Run for the six-and-under set, T-shirts included, as well as a pre-registered family rate to help keep it affordable. Overall and first-place age group winners receive FAM Value Fund shares of stock! FAM 5K is the fall classic for charity, as each year the race proceeds are donated to one of five local charities on a rotating basis. This year benefits the Cobleskill Regional Hospital. (fam5k.com)
Target several of these convenient, local options to perfect your 5K skills, and be ready for whatever surprises the weather dishes out. Whatever the outcome, enjoy a fun time at these family-friendly events!
Laura Clark (snowshoegal133@gmail.com) of Saratoga Springs is an avid trail runner, ultramarathoner, showshoer and cross country skier. She is a children's librarian at the Saratoga Springs Public Library.